£70.00 GBP
Regular price
Sale price
Unit price
per
Sold out
15 in stock
Shipped in 3-5 working days
Cox's Orange Pippin apple is the classic English apple. It was discovered in England in 19th century as a chance seedling. It is famous for its rich and complex flavour and considered to be one of the finest dessert apples. The fruit is small to medium-sized. It has yellow skin with orange-red blush and crisp, firm, very juicy and aromatic flesh. The flavour has hints of mango and orange. Cox's Orange Pippin apple plant is an upright tree with spreading growth habit. Its vigorous and bushy growth can become difficult to control. The plant is sensitive and demanding with regard to soil and climate. It needs exceptional soil and adequate weather conditions to grow well. It prefers rich neutral soil, moist but well drained, and sheltered position in full sun. It is susceptible to diseases and doesn't tolerate frost. The best flavour is achieved in cool maritime climate.
Root stock MM106 is a semi-dwarfing rootstock commonly used for apple trees. It offers a moderate growth rate, producing trees 10-15 feet tall when mature. Suitable for medium-sized gardens, MM106 ensures good fruit yield and adaptability to various soils. It's resistant to woolly apple aphid and moderately resistant to crown rot. Ideal for bush, cordons, and espalier forms. Ensure proper staking in early years.
Key Info

Size & Spacing

Shape / habit

upright, bushy, spreading, densely branched

Preferred Location

Orientation

South–facing or West–facing, sheltered

Soil Type

neutral soil, full sun

Soil moisture

moist but well-drained

Growing Period

Foliage

spring, summer, autumn
View full details
Arundel Arboretum is a shrub and tree retail nursery with over 40 years of experience.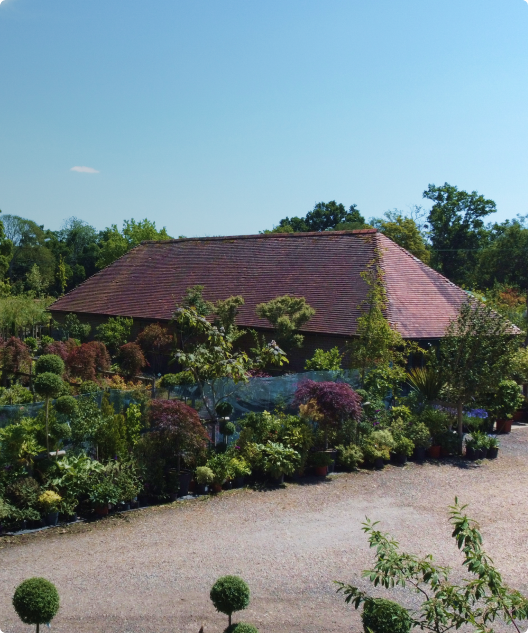 About Us
During this time, we have developed a large stock of trees, mature evergreen shrubs, conifers, Japanese maples, cedars and olives. What sets us apart from a generic garden center is solid unwavering focus on trees and some bigger shrubs. You will find thousands of trees, hundreds of varieties and lots of experts who are working on the nursery and more than willing to help you to choose a plant for you.
What you will not find is hot tubs, garden furniture and plastic garden gnomes. In a nutshell, trees is what we know and trees is what we do, and only trees (and some shrubs to go with the trees).
Read more
Where we are located
Address
Arundel Arboretum Ltd Scotland Barn Chichester Road Arundel West Sussex BN18 0AD
Contact Us
Monday - Friday
8.00 am - 5.00 pm
Saturday - Sunday
10.00 am - 4.00 pm
Bank Holidays
10.00 a.m. - 4.00 p.m.
Easter Sunday - Closed

Christmas & New Year Closed between Christmas and New Year