£70.00 GBP
Regular price
Sale price
Unit price
per
Sold out
1 in stock
Shipped in 3-5 working days
"Lord Lambourne" is a distinguished English dessert apple, celebrated for its tantalizing sweet-tart balance. Introduced in the early 20th century, its juicy, aromatic flesh and crisp texture make it a preferred choice for fresh eating.
The apple showcases an alluring appearance: a brilliant red flush gracefully juxtaposed against a yellow-green backdrop. When in full bloom, the tree becomes a sight to behold, draped in beautiful white blossoms that exude a subtle fragrance.
When grafted onto the M26 rootstock, "Lord Lambourne" becomes particularly suitable for those with limited garden space. M26 is a semi-dwarfing rootstock, ensuring that the tree remains relatively compact, typically reaching heights of 10-12 feet. This makes it an ideal choice for smaller gardens or orchards and for those who wish for more manageable tree sizes without compromising fruit quality.
The combination also brings about earlier fruiting, usually within 2-3 years of planting. However, it's worth noting that while "Lord Lambourne" can produce fruit alone, it thrives best with cross-pollination from another suitable apple variety. This ensures optimal fruit set and production.
In conclusion, "Lord Lambourne" on M26 is a perfect fusion of flavor and convenience, marrying delectable fruit with a tree size suited for compact spaces.
Key Info

Size & Spacing

Preferred Location

Orientation

West–facing or East–facing or South–facing, sheltered

Soil Type

acid, alkaline, neutral soil, full sun

Soil moisture

moist but well-drained, well-drained

Growing Period

Foliage

spring, summer, autumn
View full details
Arundel Arboretum is a shrub and tree retail nursery with over 40 years of experience.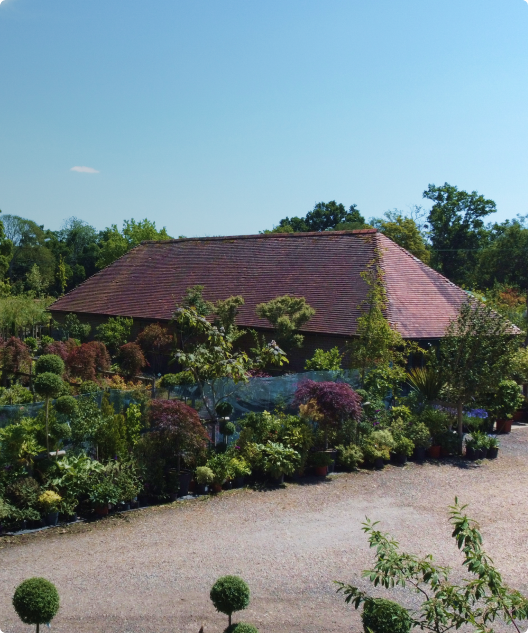 About Us
During this time, we have developed a large stock of trees, mature evergreen shrubs, conifers, Japanese maples, cedars and olives. What sets us apart from a generic garden center is solid unwavering focus on trees and some bigger shrubs. You will find thousands of trees, hundreds of varieties and lots of experts who are working on the nursery and more than willing to help you to choose a plant for you.
What you will not find is hot tubs, garden furniture and plastic garden gnomes. In a nutshell, trees is what we know and trees is what we do, and only trees (and some shrubs to go with the trees).
Read more
Where we are located
Address
Arundel Arboretum Ltd Scotland Barn Chichester Road Arundel West Sussex BN18 0AD
Contact Us
Monday - Friday
8.00 am - 5.00 pm
Saturday - Sunday
10.00 am - 4.00 pm
Bank Holidays
10.00 a.m. - 4.00 p.m.
Easter Sunday - Closed

Christmas & New Year Closed between Christmas and New Year