Regular price
£420.00 GBP
£420.00 GBP
Regular price
Sale price
Unit price
per
Sold out
4 in stock
Shipped in 3-5 working days
Taxus x Media 'Hillii' is a cultivar of the Taxus x Media hybrid, which is a cross between Taxus baccata (English yew) and Taxus cuspidata (Japanese yew). It is a popular evergreen shrub in the horticultural industry, prized for its dense, upright growth habit and attractive appearance.
One of the defining characteristics of 'Hillii' is its dense, dark green foliage. The needle-like leaves are arranged in a spiral pattern along the branches, creating a lush and vibrant display. The foliage retains its color throughout the year, making it an excellent choice for providing year-round interest in the garden.
This cultivar is known for its compact and upright growth habit. It typically reaches a height of 6 to 10 feet (1.8 to 3 meters) and a spread of 4 to 6 feet (1.2 to 1.8 meters), forming a narrow columnar shape. The dense branching pattern contributes to its neat and formal appearance, making it an ideal choice for hedges, screens, or borders.
In addition to its ornamental value, Taxus x Media 'Hillii' also produces small, round berries. These berries start out green and eventually mature to a striking red color, adding a pop of color to the shrub. However, it's important to note that the berries are toxic if ingested, so caution should be exercised if there are children or pets in the vicinity.
One of the advantages of 'Hillii' is its versatility in various growing conditions. It can tolerate a wide range of soil types, including clay, loam, and sandy soils, as long as they are well-drained. It thrives in full sun to partial shade, although it prefers some protection from intense afternoon sun in hot climates. Once established, 'Hillii' is relatively low-maintenance and can withstand pruning to maintain its desired size and shape.
Overall, Taxus x Media 'Hillii' is a popular choice for those seeking an attractive, compact, and easy-to-grow evergreen shrub. Its dense, dark green foliage, upright growth habit, and small red berries make it a versatile and visually appealing addition to gardens, providing year-round interest and beauty.
Key Info

Size & Spacing

Preferred Location

Orientation

South–facing or North–facing or East–facing or West–facing, exposed or sheltered

Soil Type

acid, alkaline, neutral, full sun, full shade, partial shade

Soil moisture

well–drained

Growing Period
View full details
Why Arundel Arboretum?
Unbeatable Quality

Since we only grow and sell trees, in 40 years we have figured out how to do it very well.

Expert Advice

Ask our experienced staff for advice. Happy to help once bought, simply email if any problems or come over for a chat.


Expert Delivery and Planting

We will deliver your tree and plant it for you. Or 10 trees or a 100.

Arundel Arboretum is a shrub and tree retail nursery with over 40 years of experience.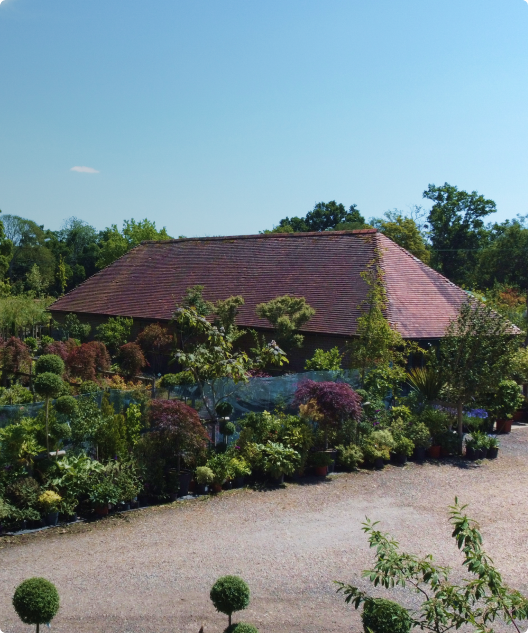 About Us
During this time, we have developed a large stock of trees, mature evergreen shrubs, conifers, Japanese maples, cedars and olives. What sets us apart from a generic garden center is solid unwavering focus on trees and some bigger shrubs. You will find thousands of trees, hundreds of varieties and lots of experts who are working on the nursery and more than willing to help you to choose a plant for you.
What you will not find is hot tubs, garden furniture and plastic garden gnomes. In a nutshell, trees is what we know and trees is what we do, and only trees (and some shrubs to go with the trees).
Read more
Where we are located
Address
Arundel Arboretum Ltd Scotland Barn Chichester Road Arundel West Sussex BN18 0AD
Contact Us
Monday - Friday
8.00 am - 5.00 pm
Saturday - Sunday
10.00 am - 4.00 pm
Bank Holidays
10.00 a.m. - 4.00 p.m.
Easter Sunday - Closed

Christmas & New Year Closed between Christmas and New Year